FORTRESS Baseball Sock Net Replacement
FORTRESS Baseball Sock Net Replacement
Supreme-Strength Netting for Your Baseball Sock Net Screen
Overlocked Netting Edge
The 3/4" inch overlocked edge to all of our baseball sock netting protects against fraying and tearing during practice.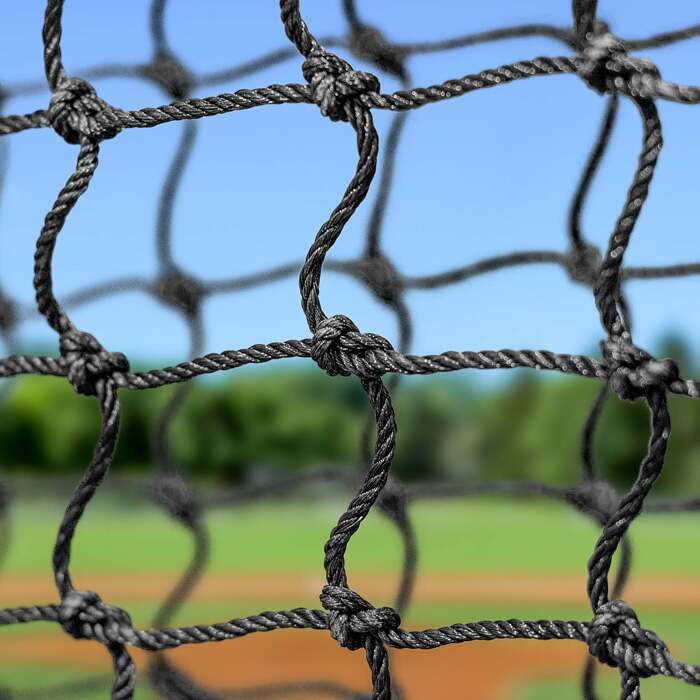 100% Weatherproof Twine
The UV treatment we give all our netting prevents it from damage in the most intense sunlight and makes it 100% rot proof in wet weather.
Double Strength Protection
The innovative pillowcase-style design used on all our baseball sock screen netting means double protection and easy application to your screen.
Description
High Quality Net Replacements For Baseball Sock Net Screens
These heavy-duty nets are ideal for either replacing or upgrading the netting on your existing screen. Sold in either #42 or #62 grade, they are the same high quality as used across our Fortress baseball screens and Nimitz Edition ranges. Designed with a pillow-case style, to ensure easy installation.
7ft x 7ft (2.13m x 2.13m) – perfect for Fortress baseball sock net screens
Choose from #42 or #62 grade netting made from a highly durable HDPE twine
All edges are overlocked with ¾" rope to prevent fraying
UV stabilised to withstand direct sunlight and 100% rot proof
Pillowcase style fitting for easy installation and doubled-up protection
All Fortress baseball screen nets are manufactured to the highest standards, using knotted twine which is UV stabilized and rot-proof. This means you can purchase safe in the knowledge that even in wet conditions and intense training sessions, your netting will remain in pristine condition.
The #42 grade netting is used on our Fortress range of baseball and softball screens and is more than a match for the hardest hits of amateurs and entry-level baseball and softball players.
For more devoted players that train almost every day, or for professionals, we recommend the #62 grade netting which is used on our Nimitz range of baseball screens. This unparalleled, uber-strong netting is a cut above the rest and will withstand the most powerful hits, time after time.
For more baseball screen nets and baseball equipment have a look at our impressive repertoire. We take baseball training seriously, and with the attention to detail we pay on all our products, we've got the tools to take you to the big leagues.
Specifications
Size
7ft x 7ft (2.13m x 2.13m) net
#42 weight netting is 2.5mm (7/64") thick
#62 weight netting is 3mm (1/8") thick
Features
Pillowcase style netting slides over frame easily.
Choose from a #42 weight netting, used with the Fortress range of baseball screens, or the #62 weight netting used with Nimitz Edition range.
Square sock captures balls neatly during hitting or pitching training.
Materials
Both netting grades are UV stabilized and 100% rot proof.
HDPE twine is durable and doesn't stretch.
Want to chat?
Contact us here and we'll get back to you as soon as possible.
Super fast shipping
Express shipping available
Questions & answers
Ask fellow customers what they think!
Hide Q&As
Questions & Answers
No one has asked a question yet!
You may also like
FORTRESS Regulation Baseball Hitting Net
$134.99
FORTRESS Ultimate Baseball Batting Cage
$299.99