Paceman Baseball Pitching Machine [Original S2]
Paceman Baseball Pitching Machine [Original S2]
Fast-Track Your MLB Career and Bring Spring Training to Your Own Backyard
Incredible Variation
No more swing and a miss! Prepare for any fastball, changeup or breaking ball with fully adjustable speed and curve.
Play Ball Anytime, Anywhere
Choose the optional 12V deep cycle battery kit and enjoy playing ball on the go, with enough power for your Original S2 Paceman for 2 to 3 hours of play.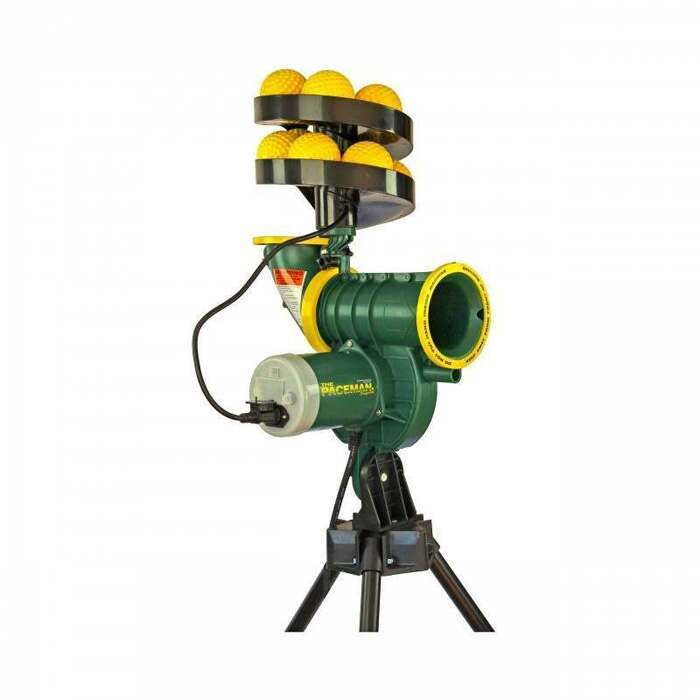 Your Own Personal Coach
Let the Paceman S2 become your very own personal trainer. Use with the FORTRESS Ultimate Batting Cage and transform your backyard into Fenway Park.
Description
Unleash Your Potential with The Paceman S2 Original Baseball Pitching Machine
Supercharge your baseball and softball batting ability and kickstart your career from little league beginner to MLB superstar with the Paceman Original S2 Pitching Machine. This prestigious piece of kit is guaranteed to radically improve your batting ability as you train to become an All-Star from the comfort of your own backyard!
Variable pitch speeds of up to 55mph – perfect for family fun and serious training
Adjustable head allows vary on pitch curve and length
12-ball auto-feeder included as standard for automated baseball practice
1 Paceman ball included so you can play ball straight away
Assemble in just a few seconds and enjoy playing ball for hours
The Paceman S2 Baseball Pitching Machine sets the standard for the rest, boasting all the essential features and qualities that you need at just a fraction of the price of club exclusive machines. Delivering both accuracy and full automation, you can depend on the Paceman S2 for superior batting practice for both baseball and softball at home or during club training sessions. Need to train on the go? The optional battery kit is the ideal partner for this perfect pitcher, meaning you can train, improve and enjoy baseball on grass fields, ball parks, concrete, tarmac, Astro Turf and more! The possibilities are endless with this second generation Paceman Pitching Machine, so don't miss an opportunity to play ball again!
The S2 Original Paceman is as useful for All-Star heroes as it is for little league beginners. The variable speed dial means you can choose from speeds of up to 90kph (over 55mph), so softball and baseball coaches can slowly raise the difficulty of pitch for their budding batters. For those looking to push their boundaries, try the fastest setting from a slightly shorter distance and let the Paceman Pitching Machine improve your strength and catalyze your development. Either way, for baseball and softball clubs, this is a fantastic feature to step up training for batters of the appropriate age or level.
Not only can this superb baseball pitching machine vary speed, but also pitch length and curve. This enables you fine tune your muscle memory and become the ultimate batter, ready for the best inside or outside breaking ball the pitcher can throw at you!
This awesome package even includes the Automatic Spiral Ball Feeder, designed solely for the Paceman Original S2 Pitching Machine. This 12-ball capacity feeder will save you hours of loading time, freeing you to enjoy doing what you do best – hitting them out of the ballpark! To get you started this package includes one Paceman ball, but we recommend adding an additional 12 pack of light Paceman balls by selecting the option from the essentials drop-down menu. The design of these high-performance balls ensure that your Paceman Original S2 consistently performs to its optimum efficiency, delivering accurate high-speed pitches tailored to suit your needs in your quest to become the next Jose Altuve. Moreover, the design and specs of these Paceman balls ensure that you stay safe at the home plate with a softer feel, without compromising on performance levels.
Please Note: The Paceman Original S2 Pitching Machine should be used only with Paceman Light, Junior or LTD balls.
---
| | | | | | | | |
| --- | --- | --- | --- | --- | --- | --- | --- |
| | Housing | Motor | Speed | Ball Feeder | Drive Wheel | Adjustment | Ball Compatibility |
| Pitch Attack | Plastic | AC | Up to 80kph | 6 ball feeder included | PU | Pitch & Swing | Light, LTD & Mixed |
| Original S2 | Plastic | AC | Up to 90kph | 12 ball feeder included | PU | Pitch & Swing | Light, LTD & Mixed |
| Strike | Metal | DC | Up to 110kph | 12 ball feeder included | Concave TPR | Pitch | Light, LTD, Mixed & Reg |
| Pro X2 | Metal | DC | Up to 110kph | 12 ball feeder optional | Concave TPR | Pitch, Swing & Spin | Light, LTD, Mixed & Reg |
Specifications
Features
3G (Third Generation) Paceman Drive Mechanism
Variable speed of pitch, up to 90kph (over 55mph)
12-capacity automatic ball feeder included
Adjustable delivery function - Inside breaking ball and outside breaking ball
1 Paceman ball included (additional balls can be purchased from Net World Baseball).
MISCELLANEOUS
Paceman S2 Pitching Machine UK mains powered (220-240v) and fitted with a UK standard 3 pin plug. For the Unites States a step-up voltage converter may be needed to run the machine correctly on your local mains power supply.
As an alternative, the optional battery kit comprised of a 300W pure sine wave inverter and a 12v (22amp/hr) deep cycle lead-acid battery will power your Paceman for around 2-3 hours of use. Please note the battery charger is not included.
Suitable for baseballs, cricket balls and softballs
Want to chat?
We're here on

live chat

right now!
Or via phone or email if you'd prefer...
Super fast shipping
1 day shipping available
Questions & answers
Ask fellow customers what they think!
Hide Q&As
Questions & Answers
No one has asked a question yet!
You may also like
FORTRESS Ultimate Baseball Batting Cage
$310.99
Recently Viewed
Sports Drink Water Bottles (750ml)
$2.99