FORTRESS Trapezoid Baseball Batting Cage [Complete Package]
FORTRESS Trapezoid Baseball Batting Cage [Complete Package]
The Complete Baseball Batting Cage For The Avid Baseball Fanatic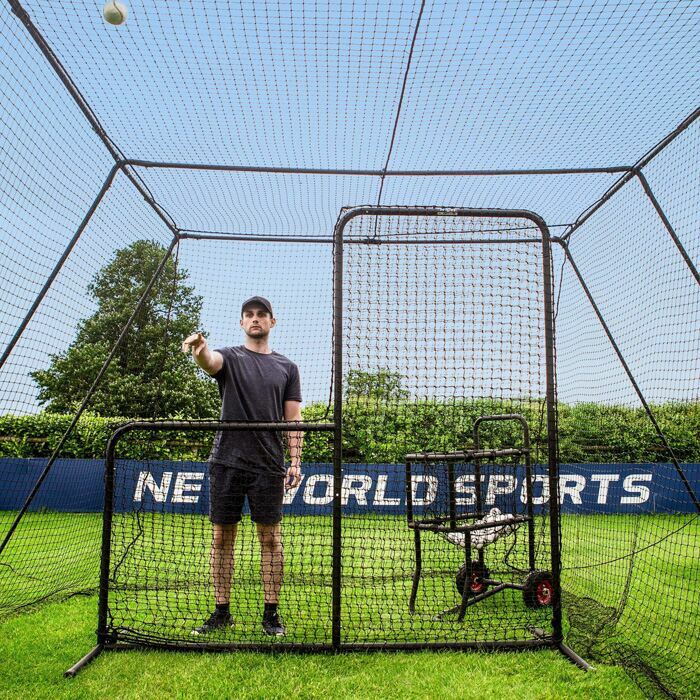 Innovative Design
The unique design of this superb baseball batting cage means it is freestanding and hangs netting internally, preventing ricochets that can cause injury.
Powder Coated Steel Frame
The powder coated steel tube frame not only provides firm stability but also prevents rust, so your investment lasts long-term.
Super-Strong Twine
Your Trapezoid Baseball Batting Cage comes equipped with #42 grade netting, capable of withstanding the most powerful shots again and again.
Description
High-Quality Baseball Batting Cage Hitting Tunnel For Use On All Surfaces
For the best baseball practice you've ever experienced right on your doorstep, look no further than the FORTRESS Trapezoid Baseball Batting Cage. Its heavy-duty frame and net can withstand the most fearsome of pitches and the biggest home run hit balls, so that you can swing for the fences every time.
Available in three lengths: 35ft, 55ft and 70ft.
Super-strength, highly durable and weatherproof #42 weight netting to absorb the hardest hits
Made from 32mm (1 1/4in) diameter steel tubing powder coated black to prevent rust
Innovative design means the only set-up space you need is the size of the cage
Batting tunnel suitable for use on grass and hard surfaces like concrete – no pegs needed
Option for internally hanging netting or external netting to cover the whole cage
Ideal for those with limited backyard space. The unique design means it can be used on grass or concrete also meaning it can be set up indoors or outdoors extremely easily. The choice of 3 cage lengths means this cage suits any age, any space and any budget.
The highly durable, high-density netting used on all FORTRESS Trapezoid batting cages are resistant to stretching, intense direct sunlight and are rot proof. The attention to detail paid in the design and manufacturing processes mean that this baseball batting cage will last for years in your backyard or baseball field, so you can perfect your hitting technique and multiple your batting average.
FORTRESS stock everything you need to evolve your game from bush league beginner to Major League master. Kit out your Trapezoid baseball batting cage into a haven for any baseball fanatic, with L-screens, pitching machines and hitting tees.
Please note: We recommend that you take the cage netting down and store away during the off season and during periods of high winds
Specifications
Sizes Available
35ft x 10ft x 10ft
55ft x 10ft x 10ft
70ft x 10ft x 10ft
Features
Four-way galvanized steel corner connectors and three-way end connectors included, both 1 1/2in diameter.
1 1/4in diameter steel tubing, powder coated to prevent rust
Black #42 weight netting grade with 1 3/4in mesh
Netting is UV stabilized and rot-proof as standard for a long life
Edge of net trimmed with 1/4in braided rope for extra strength
Miscellaneous
Suitable for use on grass and hard surfaces such as concrete or tarmac
Please note: We recommend that you take the cage netting down and store away during the off season and during periods of high winds
Don't just take our word for it
Product was delivered quickly. Set up was fairly easy although plan to have a few people help.
Want to chat?
Contact us here and we'll get back to you as soon as possible.
Super fast shipping
Express shipping available
Questions & answers
Ask fellow customers what they think!
Hide Q&As
Questions & Answers
3 questions | 3 answers
Does this 'complete package' include an L-Screen or Batting Cage Net?
Hi Aaron,
Thanks for your questions, the complete package gives you the netting posts and connectors, you would have to add the l-screen to this order. If you would like any pricing on this, please email sales@
networldsports.com
who will be happy to assist you.
Thanks
Alex
Is there a way to stake or secure the cage to the grass in case of high winds?
Hi Rick,
Thanks for getting in touch, we always recommend taking down the cages in high winds. You can easily drop the netting form the system and lower the poles. This helps the longevity of the product.
Many thanks,
Alex
I am interested in the trapezoid batting cage and wondered what the distance is between the legs of the frame are? Thanks, Alex
Hello Alex, Thank you for your question. The distance between the legs of the frame are 14ft while the net itself is 10ft wide. This allows the framework to support the netting and cope with the impact of the ball. If you have any further questions please contact me via sales@
networldsports.com
Many thanks, Tom
You may also like
FORTRESS Ultimate Baseball Batting Cage
$299.99