Baseball Batting Cage Nets [All Sizes]
Baseball Batting Cage Nets [All Sizes]

HIGH QUALITY BASEBALL BATTING CAGE NETS FOR ELITE LEVEL TRAINING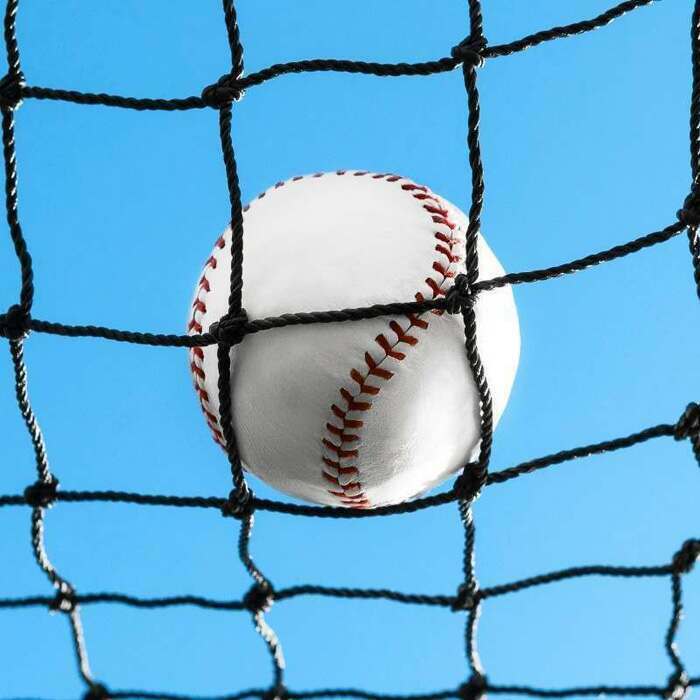 Robust Knotted Twine
All of our #36, #42 and #62 weight baseball nets are made from super-strength high-density knotted twine, built to last for years to come.
5 Year Guarantee*
We're confident you won't need it, but we guarantee the high-quality materials and superb workmanship of our baseball nets for 5 years*!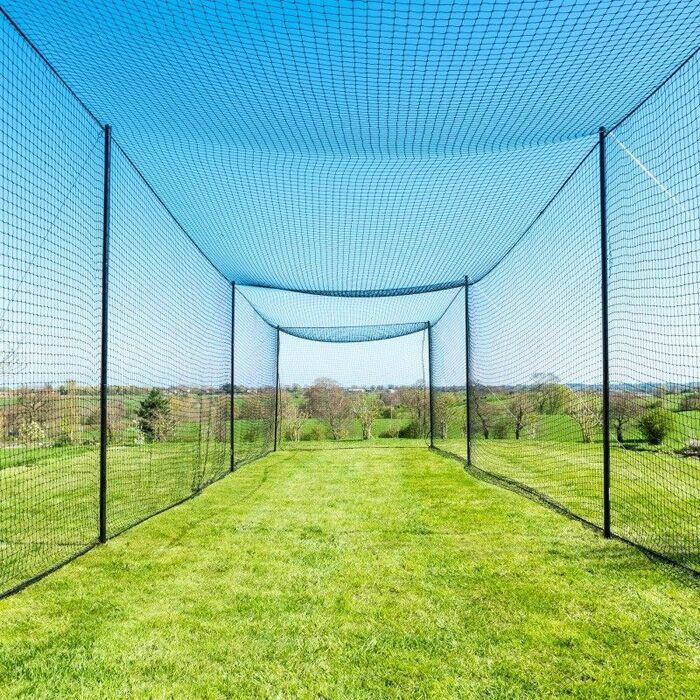 100% Rot Proof & UV Stabilized
Thanks to UV treatment, our baseball batting cage nets can withstand direct sunlight of any intensity and will never rot so you can play ball all year-round!
Description
STRONG, DURABLE BASEBALL BATTING CAGE NETS FOR UNBEATABLE PROTECTION
Professional quality at fantastically affordable prices, these high quality baseball batting cage nets are more than a match for your high intensity hitting training, both indoors and outdoors. The close attention to detail paid during the designing and manufacturing processes mean that the UV stabilized, knotted twine construction of our baseball batting cage netting will last for years to come.
Vast variety of netting size options to suit every facility, backyard, ability and budget
Highly durable knotted twine on all our baseball netting grades, UV stabilized and 100% rot proof
Reinforced long edges extend the product lifespan by preventing fraying and stretching
Attach to your batting cage, poles or wires effortlessly using the 6ft ties built in
5-year warranty on workmanship and material defects for your peace of mind
All Fortress baseball batting cage nets are constructed from highly durable knotted twine, UV stabilized to withstand direct sunlight of any intensity and 100% rot proof. This means that when you invest in a high-quality Fortress baseball cage net, you can enjoy baseball training whatever the weather whilst your equipment remains in pristine condition.
Our baseball nets feature overlocked edges to further increase their durability. This not only keeps the shape of your nets but protects against fraying and stretching for years to come. With 6ft tie cords built-in, you can easily attach our batting cages nets to your baseball cage, poles or wires in a matter of minutes, so you can play ball straight away and start multiplying your batting average!
Please note: Baseball cage netting only, batting cage poles and frame can be bought separately
*Warranty covers a 5-year period from date of purchase. Warranty covers defects in material or workmanship across all batting cage products.
Specifications
Size
Netting sizes in foot (Length x Height x Width): 8x8x8, 10x10x10, 20x8x8, 35x10x10, 35x12x12, 35x14x12, 55x10x10, 55x12x12, 55x14x12, 70x10x10, 70x12x12, 70x14x12
Netting weight: #36, #42 or #62
Mesh size: 45mm (1 3/4 inch)
Features
UV stabilized to withstand direct sunlight
100% rot proof for use in all weather conditions
High-density, knotted poly twine for ultimate durability
One-piece netting with 4 sides and roof sewn together
Reinforced edges for to prevent fraying and stretching
Miscellaneous
Please note: Netting only, batting cage frame available for purchase separately
Want to chat?
Contact us here and we'll get back to you as soon as possible.
Super fast shipping
Express shipping available
Questions & answers
Ask fellow customers what they think!
Hide Q&As
Questions & Answers
4 questions | 4 answers
When it comes to net grade, which grade is the best?
Hi Uriel, thank you very much for the enquiry. When referring to the net grade/gauge, the higher the number, the thicker/more heavy duty the netting is.
Many thanks,
Is there a door or do you have to lift up to get inside? Also, this is not open at the ends right?
Hi Debbie, thank you very much for the enquiry. Our Fully Enclosed Batting Cage Nets do not come with a door, you are correct in thinking that you have to lift the net up to gain access.
Many thanks,
does the batting cage come with poles to support it up.
Hi Nick, Thank you for your question, This listing is for the batting cage nets only and no other accessories come included. We do have batting cage frames available which can be seen on the various drop down menu's on the site. If you have any further questions please email sales@
networldsports.com
Many thanks, Tom
Does the 12x12x70 net have a rope down the middle of the top or only on the sides? Thanks
Hello Jason, Thank you for your question. Each batting cage net does have a centre roof salvage which improves the structure of the net giving it more stability. If you have any further questions please email sales@
networldsports.com
Many thanks, Tom
You may also like
FORTRESS Ultimate Baseball Batting Cage
$299.99
FORTRESS Trapezoid Baseball Batting Cage [Complete Package]
$999.99
Baseball Batter's Eye Screen
$89.99
Recently Viewed
Socketed STOP THAT BALL™ - Ball Stop Net & Posts [12ft High]
$189.99
Replacement Parts for Trapezoid Batting Cages
$29.99
Heavy Duty Baseball Backstop Netting – Standard Sizes
$18.99